Winners of an Ecomatters Love your Place Award!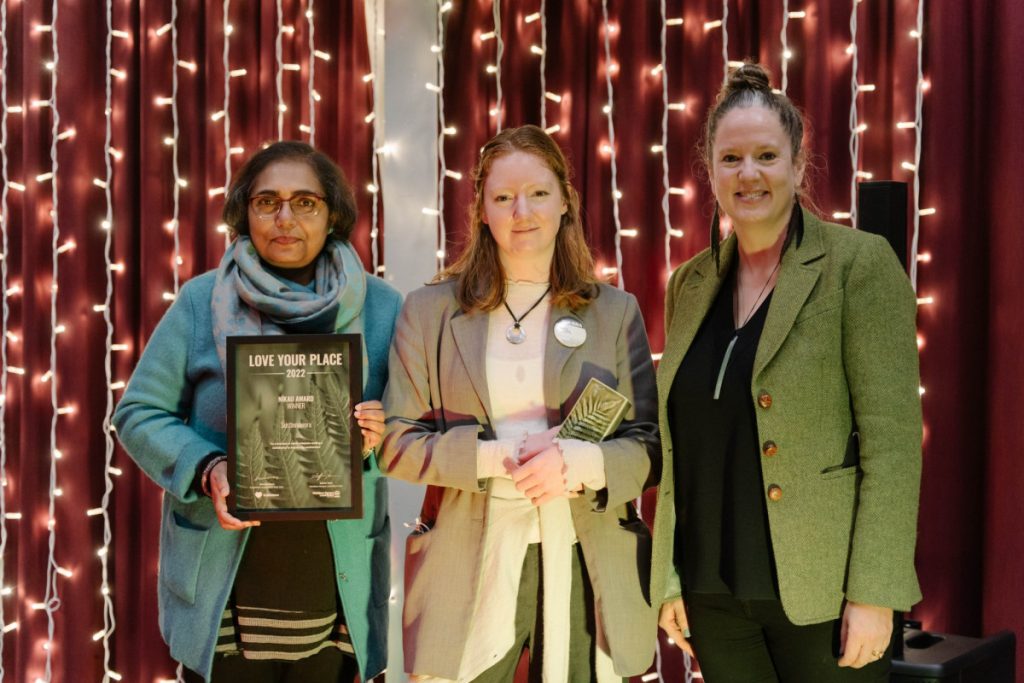 We were privileged to be acknowledged by Ecomatters at their 2022 Love Your Place awards, which highlights businesses, organisations and individuals making a different to sustainability in the Waitakere area.
"Winner: Sustinnoworx is a social enterprise which promotes a circular model while diverting textile waste from landfill. They trade in second hand clothing, with profits going to support other non-profit organisations. Sustinnoworx also holds workshops and seminars teaching upcycling and facts about fast fashion and waste. They communicate accessible information through social media channels, to highlight essential information to change consumer behaviour."
Organic NZ Magazine feature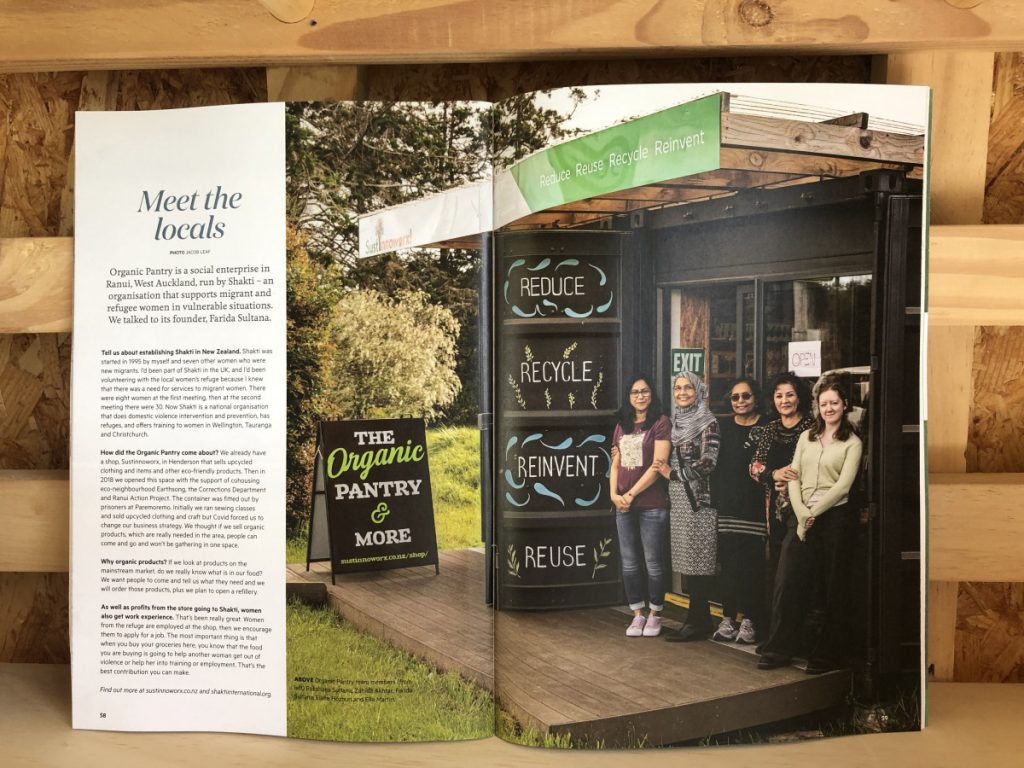 The Organic Pantry + More was profiled by the wonderful team at Organic NZ- New Zealand's best Organic magazine. They discussed our history as a Shakti associated social enterprise, what profits support on our products, and why embracing organic food is so important for our environment. Thank you, Organic NZ for this opportunity!
Nominated for an Impact Award!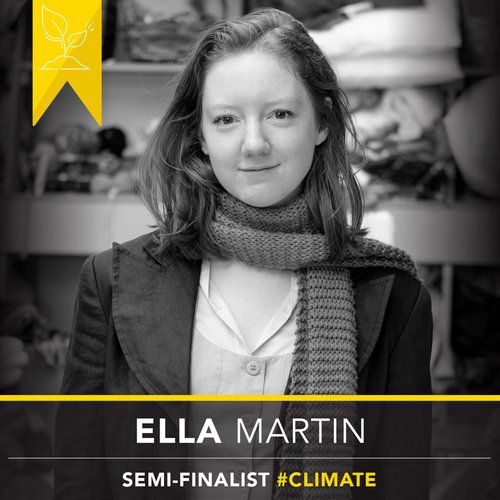 Our Ethical Officer was a semi-finalist for an Impact Award, which  celebrate young New Zealanders aged 16-30, who are making a difference for our communities, country, and beyond. Ella was one of 10 semi-finalists in the climate category, for her work reducing the climate impact of textiles.
We thank the team at Inspiring Stories for this kind acknowledgement, and for allowing Ella to attend the Impact Awards night as well as Festival for the Future.
"As a national event with global reach to 40+ countries, Festival for the Future is one of the most inspirational conferences you'll ever attend. Network with entrepreneurs and leaders. Engage in the conversations that matter. Build ideas and skills to transform our world for the better."
Here, Ella had the opportunity to connect + listen to young leaders working toward sustainability and circularity in Aotearoa, and come away with inspiration to work towards this future for Sustinnoworx.
Stuff Article: Two fashion sustainability educators on whether you can be eco-friendly and still shop fast fashion
Our Ethical Officer, Ella, was interviewed by Stuff's Style Reporter for an article about fast fashion and accessibility. She was interviewed alongside AUT lecturer, Lisa McEwan, to unpack the nuances about the fast fashion conversation and where it is at right now in New Zealand.
"Having dedicated her academic and professional lives to sustainable fashion, Martin thinks discussion about the fast fashion problem often sidelines and unfairly demonises people who rely on the sector to clothe themselves and their families.
"That means, as Martin says, it's extra important for those who are aware of the issue and have the means to do what they can. "It's the same with fashion as it is with anything in the consumption and waste discussion. Take your KeepCup kind of thing," she says.
"…Martin says she is very against demonising consumers who aren't in the same position as she is. It's a better use of resource, she says, to gently encourage people towards better options and heavily support the introduction of legislation that could regulate the fast fashion industry as well as make the sustainable fashion sector more transparent.
"What comes before habit change and societal value change has to be legislation and education in partnership," she says.
"Martin points to New York's proposed Fashion Sustainability and Social Accountability Act as the type of regulation that will have a global impact, even if it technically only has a jurisdiction in one region.
"These solutions then become global precedents. Smaller steps can set a larger and widespread precedent going forward," she explains.
Martin acknowledges that coming to terms with the impact of your purchases and confronting the scale of the issue can be disheartening, but she wants to highlight the achievable actions that anyone can do.
"You can support organisations, people and places that are sharing education and advocating for legislation by liking and following them on social media to growth their platform. That's something that is within your capacity, and it's meaningful on the other end because it helps those people reach more audiences and access funding."
In the NZ Herald: Domestic abuse survivors fight fast fashion at Sustinnoworx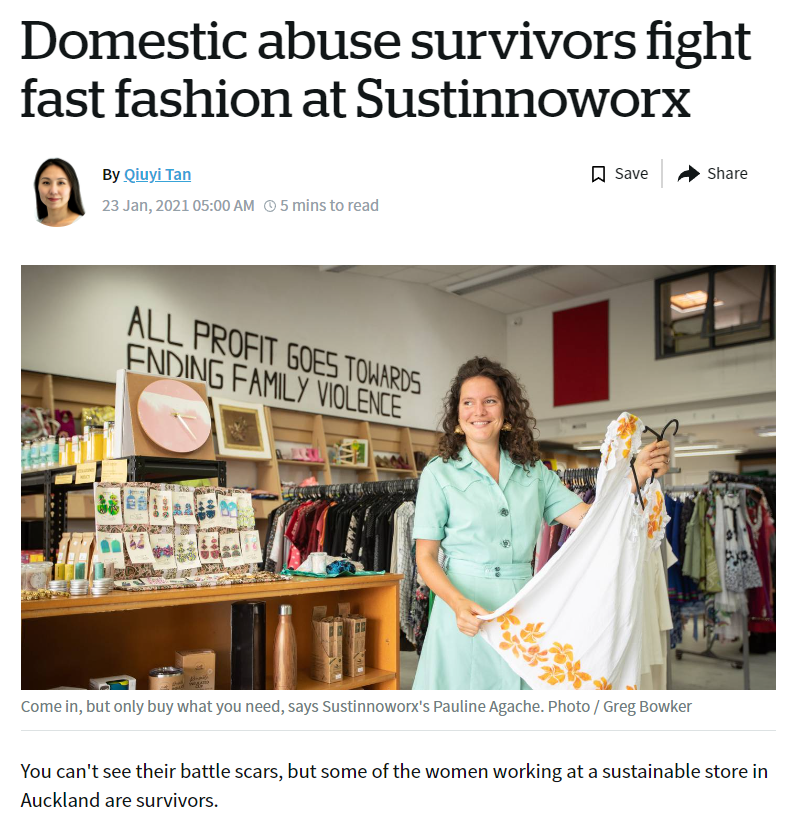 "Jyoti is one of dozens of women who have gone through a 20-week training programme at Sustinnoworx, a social enterprise in Henderson, West Auckland that is helping women who have come out of abusive relationships become financially independent…
"I had to ask for money, for permission to go out," she said, "Now I have a bank account. I can take the bus, go anywhere."
At first, she needed encouragement and gentle shoves from trainers to approach customers.
"But now I go up and ask, can I help you? What do you like?"
Jyoti walks to the sewing workshop at the back of the store. This is where the women do clothing alterations and upcycling – turning old clothing and fabric like old saris otherwise headed to landfill into wraparound skirts, bags, or face masks.
More important than reinventing unwanted fast fashion into new items is the transformation that's happening on the human front.
They started out as fearful migrant women reeling from the trauma of family violence and abuse, silenced by formidable language, cultural and information barriers. The difference when they come out of the training programme is "massive", Sustinnoworx coordinator Pauline Agache says.
The first Sustinnoworx store opened in 2018, the brainchild of a group of women, including Agache, passionate about the environment.
Their immediate goal is to stay afloat to continue to provide a training ground, offer jobs and a living wage to the most vulnerable women in the community. Most of the programme's first batch of graduates have found work in the New Zealand job market, Agache says.
Their other focus is tackling fast fashion. Millions of women in developing countries like Bangladesh and India – home countries of some of the trainees – work in conditions akin to modern slavery to produce the cheap clothing that women in New Zealand then buy with their hard-earned money, she says.
"Fast fashion is not helping women at all. It's use quick, throw fast, and buy more, and it's terrible for the environment. So much of it ends up in landfill, and continues to pollute the environment because it doesn't break down easily," Agache says.
Textile waste and fast fashion are complex global supply chain problems that the slow fashion on offer at the store doesn't have all the answers to, but the social enterprise is hoping to raise awareness and change mindsets, starting with their trainees and customers.
"We can choose to do nothing about it, or we start making change that will make a difference for future generations," Agache says.
[Jyoti] sorts secondhand clothing and shares a laugh with a fellow trainee. She had no friends in her old life under her abusive husband's roof, but today has found support, friendship, and ambition.
She's looking for work, and she has a dream.
"I want to be a police officer, to help other women like me."