Past events:
Crochet Upcycling Workshops | Ecofest West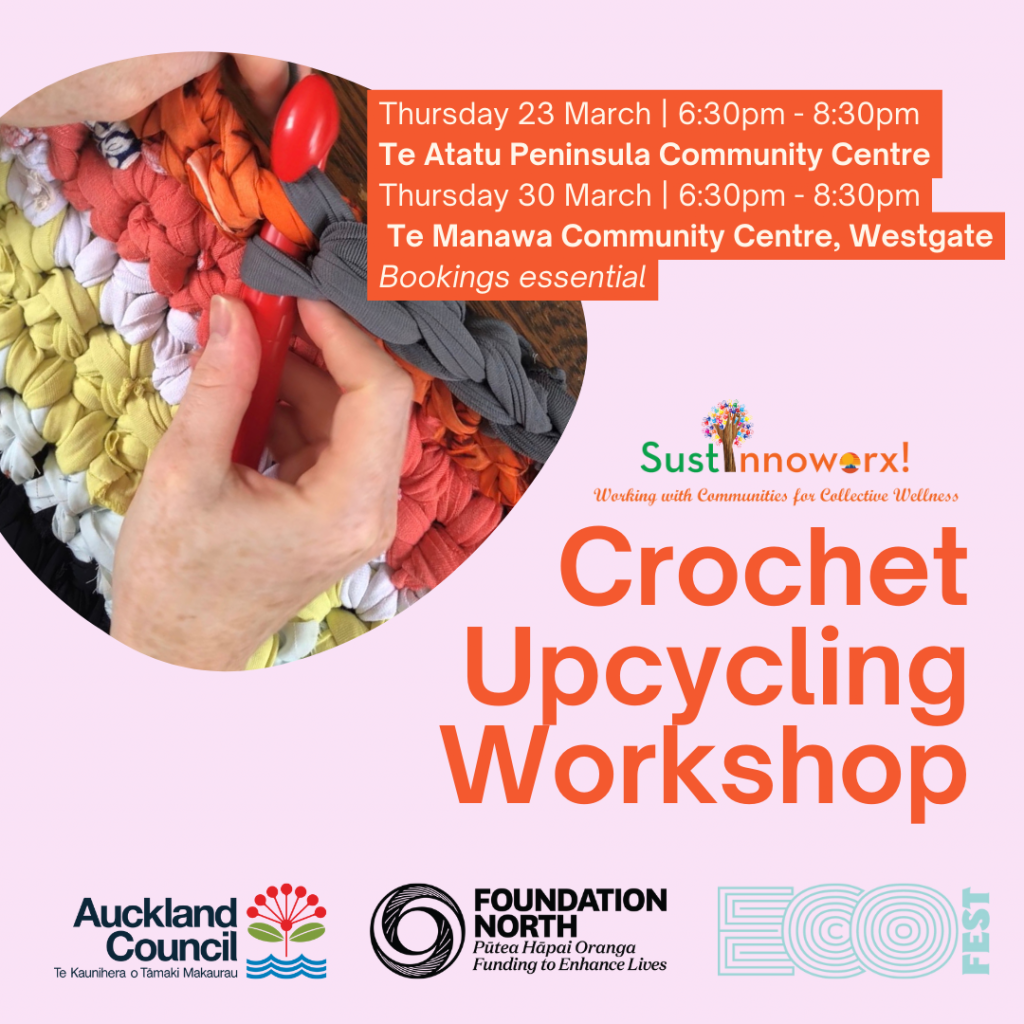 After so much interest in last year's Ecofest West event, Sustinnoworx is bringing back Crochet Upcycling Workshop!
In this free, hands-on workshop, learn a basic crochet stitch using textiles saved from waste. Suitable for ages 13+ and perfect for adults, open to all. All materials provided for the session, and you get the opportunity to leave with your own crocheted mini bag and lots of textiles to carry on your learning!
2 venue options- Limited spaces available for each session to ensure a quality experience- be in quick! 1 session per person limit.
Session 1: Thursday 23 March | 6:30pm – 8:30pm | Te Atatu Peninsula Community Centre
Session 2: Thursday 30 March | 6:30pm – 8:30pm | Te Manawa Community Centre, Massey
EXPRESSIONS OF INTEREST via email to sustinnoworx@shakti.org.nz
Any questions? Send us a message or email to [email protected]!
Held as part of Ecofest West with support from Foundation North, Ecomatters and Auckland Council Community Centres.
Fast Fashion Seminar Series @ Manzana

This 2-part seminar series by Sustinnoworx is hosted kindly by our friends at Manzana.
First discussing Globalisation, Pollution and Human Rights, to understand the challenges we are facing currently and how we got here.
Then following with what solutions are available here in New Zealand now, and what innovative solutions will be available in the near future.
Perfect for the converted fast-fashion skeptic, these sessions focus on in-depth knowledge and practical tips to reduce your fashion impact. Register here!
Crochet Upcycling: Crushes Social Club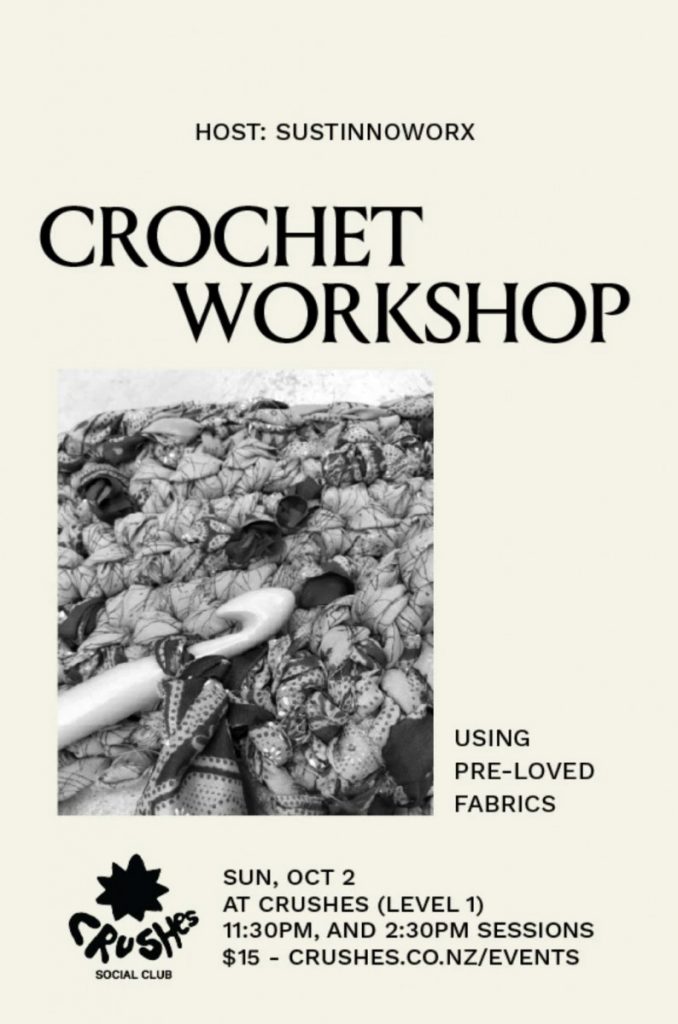 Crushes Social Club- Crochet Workshop!
Join Sustinnoworx at Crushes Social Club to learn crochet with upcycled textiles!
"After long, enthusiastic talks about things like textile waste and overconsumption, we knew we had to get in Ella Martin of Sustinnoworx to host one of her famous workshops where she teaches skills using fabric that would otherwise be discarded of. And if you know Crushes, you know we LOVE that.
WHAT CAN YOU EXPECT?
You will learn the basics of crochet, and instead of using yarn, we're going to learn to cut up worn/pre-loved t-shirts which creates large plush textile that is unique and sustainable!"
Crochet hook provided!
Sunday 2 October, 11:30am and 2pm
Bookings essential, get tickets HERE!
Bojagi Upcycling: The Slow Fashion Festival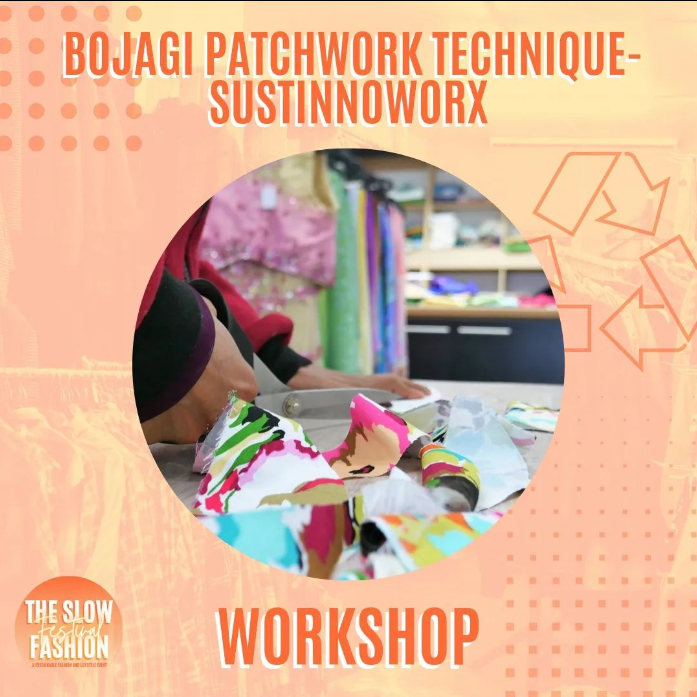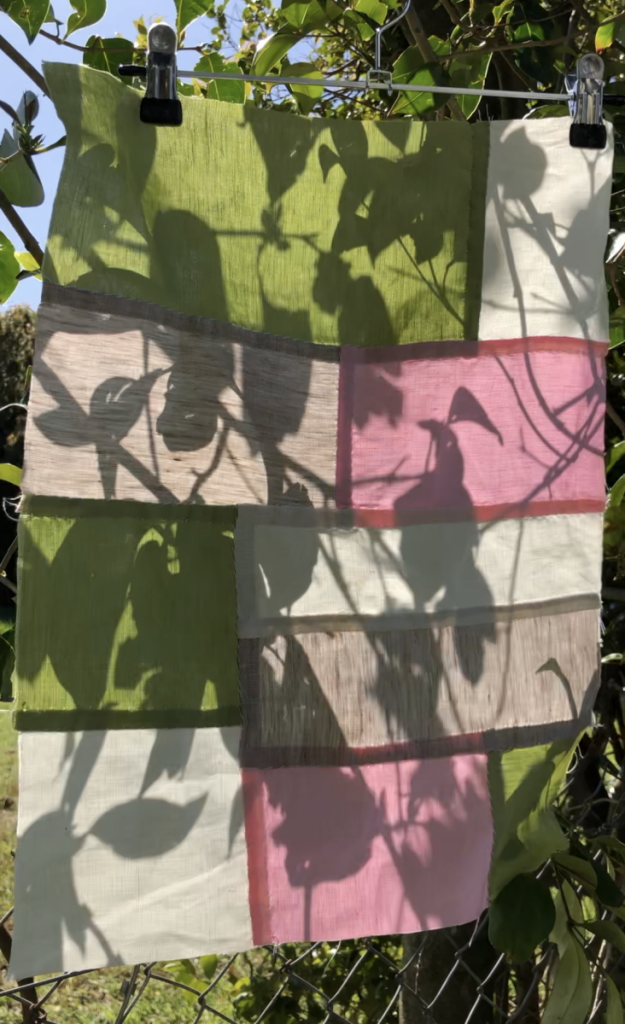 Upcycle using the Bojagi Patchwork Technique!
Bojagi is a Korean technique of patchworking using simple hand-sewing materials. Use this technique to create beautiful textiles out of materials that you have saved from waste. This workshop is perfect for beginners, and is a meditative exercise in a fast-paced world.
This workshop is facilitated by Ella Martin from @sustinnoworx a Henderson-based social enterprise which exists to tackle textile waste. Sustinnoworx is a preloved clothing and eco-product store, with an in-house sewing workshop. As part of their work in textile waste education, Ella delivers seminars and workshops about upcycling skills and fashion consumption to Sustinnoworx clients and the community.
All materials are provided, and participants can take home their kit at the end of the workshop to carry on with their project in their own time.
Saturday 8 October 11am-12pm
Cost: $25 per person with limited spots available so get in quick!
Please note: a GA festival ticket must be purchased alongside each workshop ticket.
Get your tickets from eventfinda.co.nz
Sustinnoworx Sewing Space – 1 September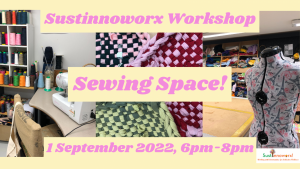 Ever wanted a FREE space to express your creativity, upcycle materials from waste and build your sewing skills? Sustinnoworx is LAUNCHING a recurring event: Maker Space at Sustinnoworx!
The Sustinnoworx store boasts a comprehensive workshop space, used during the day to train survivors of domestic violence. We are opening this space up to the wider community, to provide an accessible space for the community to develop skills to tackle textile waste.
This session is ADULTS ONLY for now, but we may open sessions specifically for children or families in the future.
Sessions are free or by donation. Sustinnoworx is part of a charitable trust and any donations are greatly appreciated. All materials are provided, including a massive range of fabrics and trims, and some patterns.
This pilot session has extremely LIMITED spaces. Please express interest by filling out
this google form
, and if you are not able to attend this session, we will keep you up to date with future sessions.
Recycle Market @ Edmonton Primary School!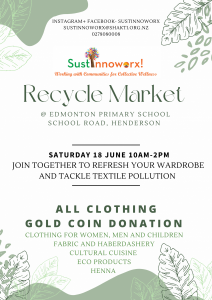 Do you want to get your wardrobe Winter-Ready? Do you want a fun activity for the family? Or do you just want to share a morning with like-minded people on a Saturday morning?
SUSTINNOWORX is holding a Recycle Market at Edmonton School on Saturday 18 June from 10am-2pm!
Sustinnoworx is an eco-store, preloved shop and training space based at 7/104 Central Park Drive. We pride ourselves in never dumping any of our excess stock; instead upcycling any clothing that is unsuitable to wear. Did you know that many opshops and clothing bins dump their excess clothing, or send it to pollute the global South?
Help us to clear out excess stock and SAVE this good quality clothing from landfill by coming together for the planet at RECYCLE MARKET!
All clothing is only a gold coin donation, but that is not all that is on offer- fabric and haberdashery for the creatives, eco products, cultural cuisine and henna!
What are you supporting by coming to Recycle Market? Sustinnoworx is a social enterprise which exists as a training site for vulnerable women involved in the charitable organisation, Shakti. Shakti supports immigrant women effected by domestic violence, to safely reintegrate into society using housing, training and counselling. Shakti clients come to Sustinnoworx as part of their training, to learn retail, sustainability and upcycling skills. Through developing confidence, employability skills, English skills, and sustainability ideals, these women can integrate effectively and happily back into the community. Profits from preloved clothing, eco products and upcycled goods sold in the Sustinnoworx store go directly to supporting the housing and reintegration of these women.
We look forward to seeing you there!